Taxi Station - Lyon Airport
Shuttle All Destinations & All Distances
Departure / Arrival
Taxi Station at Lyon Saint-Exupéry Airport – Shuttle service 24/7
Your Taxi Company at Lyon-Saint-Exupéry Airport
Taxi Lyon Airport is your specialized service provider for all your shuttles by Taxi from and to the Lyon-Saint-Exupéry Airport. You can count on our team of experienced drivers to ensure reliable and high quality transport. Our perimeter of intervention is wide ! Consequently, we will take you to and from all the cities in the Lyon region, in France and even in Europe. We take care of all your journeys, whether to the cities, tourist sites or the winter sports resorts of the Alps. Our Taxi company at Lyon Airport is at your disposal at any time, 24h/24 and 7j/7, on a simple phone call to +33 6 58 76 78 64 or via our reservation module.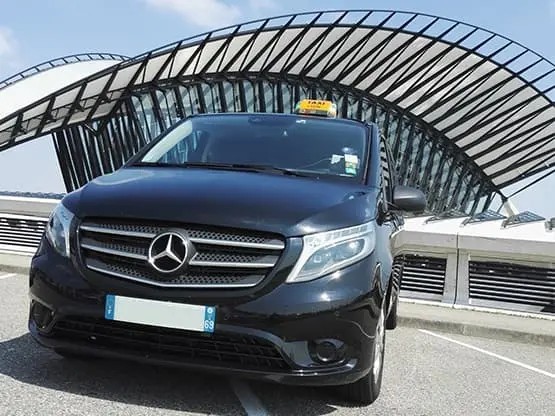 Serving towns in the Lyon region :
▶ Villeurbanne
▶ Vénissieux
▶ Vaulx-en-Velin
▶ Saint-Priest
▶ Caluire-et-Cuire
▶ Bron
▶ Meyzieu
▶ Rillieux-la-Pape
▶ Décines-Charpieu
▶ Oullins
▶ and any other municipality…
Serving towns of Auvergne-Rhône-Alpes :
▶ Grenoble
▶ Saint-Étienne
▶ Clermont-Ferrand
▶ Annemasse
▶ Annecy
▶ Chambéry
▶ Valence
▶ Bourg-en-Bresse
▶ Vienne
▶ Roanne
▶ and any other city…
Serving France, Switzerland and Europe :
▶ Geneva
▶ Marseille
▶ Toulouse
▶ Nice
▶ Nantes
▶ Dijon
▶ Strasbourg
▶ Macon
▶ Besançon
▶ Avignon
▶ and any other metropolis…
Book your Taxi at Lyon International Airport
Taxi Lyon Airport is your reference company for all of your Taxi transfers with Saint-Exupéry Airport. In order to facilitate the organization of your next trip, you can call us at +33 6 58 76 78 64 or booking quickly and simply your Taxi online via our reservation module at your disposal 24 hours a day, 7 days a week. Thus, we offer you the most efficient way to book your Taxi, for Lyon Airport. Reservations can be made several days or even months in advance. This taxi service is valid whether you are departing from the Airport or arriving at the Airport. Our area of intervention covers the whole of the quarter-east of France as well as Geneva. If you are on arrival, we'll drive you anywhere you want to go with any limits , or constraints. Reliability is an essential part of our society. That is why you can always count on us for optimal care and strict adherence to your schedule and your flight schedule. Do not hesitate to contact us and book your Taxi online !
Price & Rate for your shuttle taxi to Lyon Airport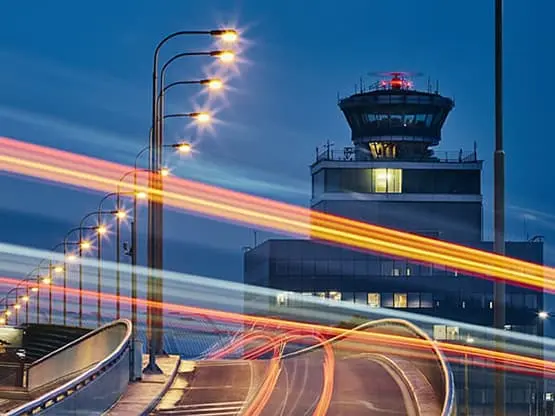 Our Slogan is : to assure you the best race at the best price! Thus, we are committed to giving you the fairest possible rate for all your taxi shuttles with Lyon Saint-Exupéry Airport. In this logic, we practice regulated taxi fares at Lyon Airport. This is a great advantage because the amount of the race corresponds to the tariffs in force by prefectoral decree. So, do not hesitate to call our taxi group and move freely and without constraint by taxi vehicle between Lyon Airport and all your destinations, home, business premises, holiday centres, ski resorts, and so one ! Why travel with us ? A correct fare does not mean a quality of transport at half mast. So, we guarantee you a vehicle that is always clean, a careful and passionate driver, comfort on board and a service adapted to your needs and constraints. You are at arrival or departure from Lyon Airport ? Are you leaving Bron or do you want to go to Villefranche-sur-Saône ? Then contact our Taxi station at Lyon Saint-Exupéry Airport and travel with us!
Transport Taxi from 1 to 8 passengers – Lyon Airport
We offer our networked services with several Lyon Airport Taxi drivers. Thus, we will be able to offer you several taxi vehicles depending on the number of passengers, the amount of luggage and the type of vehicle you prefer. Our flagship vehicle is the Mercedes Classe V (here) for up to 8 passengers with their luggage and in the greatest of comforts. This vehicle is ideal if you are travelling in a group, with your family, or with colleagues on a business trip.  Our vehicle will be at your disposal at the agreed time and place :
▶ Pick-up at the Arrival Terminal
▶ Pick-up at your home, hotel or business premises
Every trip is a unique moment. That's why we'll make your trip all the more memorable with the quality of care.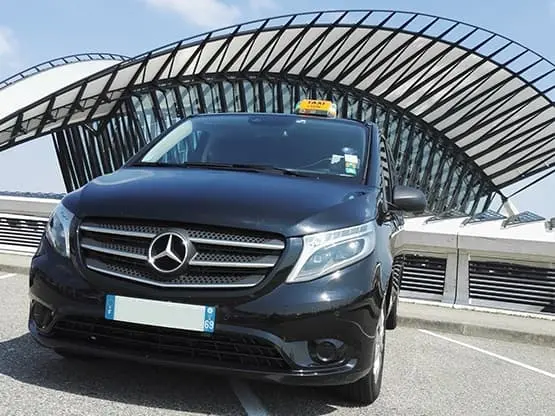 Taxi station at Lyon International Airport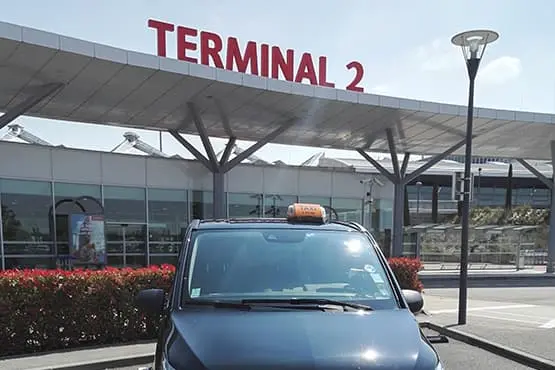 For all your taxi shuttles with Lyon Airport, our taxi company takes care of your movements both on departure and on arrival. Our team of taxi drivers is at your disposal 24/7, regardless of pickup location, airport, your home or hotel. Lyon International Airport is one of the largest platforms in France. With nearly 11 million passengers each year, it is in 3rd place after Paris and Nice-Côte-d'Azur airports. Lyon Airport is served by the largest airlines such as Air France, Lufthansa, Aeroflot, the low-coast airline Easy Jet, and not forgetting numerous secondary airlines, making a total of more than 50 players. You can thus travel to Düsseldorf, Brussels, Vienna, Bucharest, Moscow and Beijing. Taxi Lyon Airport opens up the world to you! Your journey will begin once you board one of our vehicles. With this in mind, do not hesitate to contact us ou book your taxi shuttle online.
Transfer to Saint-Exupéry station
Our company of Taxi serves the Saint-Exupéry railway station located in the heart of Lyon Airport. This SNCF station is particularly well served with numerous connections with Lyon-Part-Dieu and Perrache railway station. This platform is on the Paris-Milan line with many possible connections with all the largest stations in Europe. Thus, this station can also be a meeting point if you arrive by train or when your flight arrives. Our driver will help you carry your luggage and make you and the other passengers comfortable on board. We will then take you to your destination, regardless of distance, in the Lyon area (Tassin-la-Demi-Lune, Givors, Écully, and so on.) or to Macon, Chambéry or to ski resorts such as Courchevel and Méribel. Don't hesitate to order your shuttle to and from the Saint-Exupéry station. Thus, our drivers are at your disposal at any time and no matter where you're going.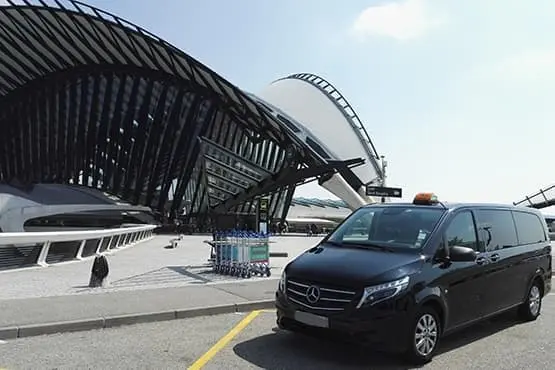 All Distances – France & Europe
Our team of drivers will take care of all your taxi shuttles from Lyon Airport to all your destinations. Concretely, we will drive you locally to cities in the Lyon area as well as to more distant cities on the other side of France or to all of Europe. In this context, we will adapt ourselves to your needs and we will offer you the vehicle that best suits your requirements. Thus, if your trip extends over a long distance after your arrival, we will offer you the transportation solution the most suitable :
▶ Lyon Area : Saint-Fons, Feyzin, Pierre-Benite, Saint Genis-Laval, Dardilly, limonest, les Monts d'or, Charbonnières les bains, Marcy l'étoile, Givors, Vienne, and so on.
▶Auvergne-Rhône-Alpes : Grenoble, Valence, Saint-Étienne, Clermont-Ferrand, Vienne, Chambéry, Annecy, and so on.
▶ France & Switzerland: Lausanne, Paris, Marseille, Toulouse, Nantes, Montpellier, Dijon, and so on.
Taxi transfer between Lyon Airport and the ski resorts of Savoie, Haute-Savoie and Isère
The Lyon Airport is one of the gateways to the ski resorts in the French Alps. As a result, there are many transfer methods with the the largest resorts in Savoie, in Haute-Savoie and in Isère. Have you thought about a transfer by Taxi from Lyon Airport ? You will have many advantages in using our transport service for your stay in one of our alpine resorts. Our taxi drivers carry out numerous shuttle with all the stations. Thus, they are connoisseurs and master to perfection the routes and the ascent of all the resorts.
▶ Our Mercedes V-Class is a vehicle adapted to the constraints of mountain roads. In addition to snow, frost and ice, climbing mountains, even on well-maintained roads, can be complicated. That's why our experience will be an asset to go to any winter sports resort, by taxi, from Lyon Saint-Exupéry Airport
▶ La Plagne
▶ Les Arcs
▶ Val Thorens
▶ Val d'Isère
▶ Tignes
▶ les Menuires
▶ Valfréjus
▶ Méribel
▶ Val Cenis
▶ Courchevel
▶ and so on.
Ski resorts of Haute-Savoie :
▶ Megève
▶ Samoëns
▶ Morzine
▶ Saint-Gervais-les-Bains
▶ Chamonix
▶ La Clusaz
▶ Les Gets
▶ Combloux
▶ Flaine
▶ le Grand Bornand
▶ and so on.
▶ Alpe d'Huez
▶ Les 2 Alpes
▶ Chamrousse
▶ Oz en oisans
▶ Vaujany
▶ Gresse en Vercors
▶ Le Collet d'Allevard
▶ Saint Pierre de Chartreuse
▶ Les 7 Laux
▶ Auris en Oisans
▶ and so on.
Our Taxi company at Lyon Airport carry out your shuttles between terminals and the several hotels of the city and the region. If you arrive in Lyon for a business or holiday delivery, you are going to be staying at the hotel upon arrival. In this way, we will facilitate your transfer and minimize travel time. How is that possible? Actually, we know all the hotels of the Lyon metropolis as well as those of the mountain resorts. In short, we will pick you up directly at the arrival terminal by identifying ourselves with a sign with your name on it. Then we will put you in our vehicle, located at the exit of the terminal, and drive you without delay to the reception of your hotel.
▶ We'll help you carry your luggage.
▶ We will provide you with all the information you need to have a pleasant stay in Lyon.
▶ We will also take care of your return.
Lyon Airport:
▶ Hôtel Ibis, Comfort, NH, Première Classe
Lyon-city:
▶ Radisson Blu, Sofitel, Mariott, Carlton, Crowne Plaza, Novotel Confluence/Gerland, Mob Hotel, Part-dieu and Perrache hotel
Bron:
▶ Novotel, Kyriad Eurexpo, Ibis Eurexpo, Campanile, Kiotel, ect.
Saint-Priest:
▶ Golden Tulip, Kyriad Prestige, Comfort hotel, etc.
Hotels in Auvergne-Rhône-Alpes:
Geneva :
▶ Four Seasons Hôtel des Bergues & The Ritz-Carlton Hotel
Grenoble :
▶ Hotel Hipark by Adagio Grenoble & Hôtel Mercure Grenoble Centre Président
Chambéry :
▶ Best Western Hotel Alexander Park & Hôtel des Princes
Saint-Etienne :
▶ Hôtel Restaurant Eclosion & Hôtel de France
Annecy :
▶ Impérial Palace & Le Clos des Sens
Courchevel :
▶ Hôtel Le K2 Altitude & La Sivolière
Alpe-d'Huez :
▶ Hôtel Au Chamois d'Or & Moontain Hostel
Chamonix :
▶ Aiguille du Midi & Hôtel Mont-Blanc
Megève :
▶ Hôtel Four Seasons & Aux Ducs de Savoie
La Plagne :
▶ Hôtel Le Cocoon & Hôtel-Restaurant L'Adray
Tignes :
▶ Hôtel Le Ski d'Or
Taxi shuttle between Lyon Saint-Exupéry Airport and all airports in France/Europe
Correspondence between Lyon and the other Airports
If you are between flights, our Taxi company takes care of your correspondence with Lyon Airport. This is a real airport crossroads in Western Europe. Moreover, it is located at the centre of a dense network of Airports and Aerodromes that extends far beyond the Rhône-Alpes region. Thus, with our services, you will be sure not to miss your connection and have time to check in before your flight.
Our desserts:
▶ Grenoble-Isère Airport
▶ Geneva International Airport
▶ Clermont-Ferrand Auvergne Airport
▶ Lyon-Bron Airport
▶ Milan Malpensa Airport
▶ Turin Caselle Airport
▶ Chambéry Savoie Mont Blanc Airport
▶ Annecy Mont Blanc Airport
▶ Saint-Étienne–Bouthéon Airport
▶ Mâcon-Charnay Airport
▶ Chalon-Champforgeuil Airport
▶ Marseille Provence Airport
▶ Zurich Airport (commonly known as Zurich International Airport)
▶ etc.

🔹 We will take into consideration the flight schedules to make every effort to ensure a stress-free and successful connection.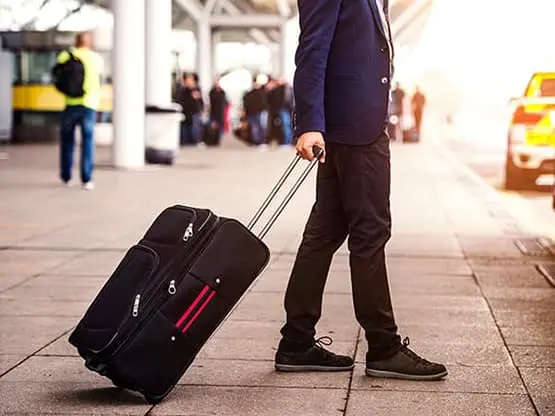 Business Transport Service for Professionals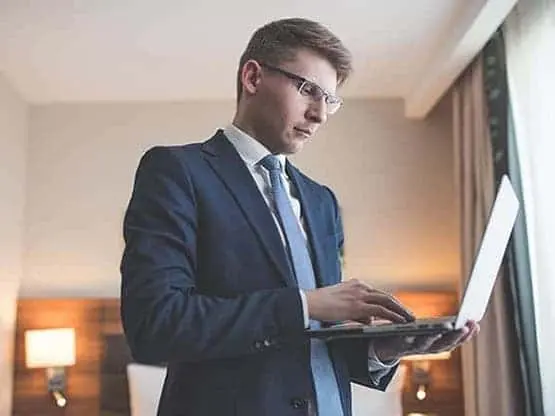 We offer you a business solution for all your taxi trips to Lyon Airport . The Lyon metropolis is the 2nd largest in France in terms of population but also in terms of GDP. The city counts among the largest business districts such as the Part-Dieu, the City Hall or the district of Perrache. To make your business appointments, but also to participate in conferences or meetings, our service will prove to be the most suitable. Thus, we will be your partner for your shuttles between the Airport and hotels, business districts and to go to your different meeting places. Moreover, we propose you to to rent our vehicle with driver if you need our services for a determined period of time for all your professional needs. Don't hesitate also to visit all our additional services such as the sightseeing tours and the various transfers that we provide as with the ski resorts.
Sightseeing tours by Taxi in the Lyon region
You are on a stopover in Lyon ? Just passing through for a few days ? You want to visit the capital of the Gauls and discover all the facets of the city ? Then we offer tailor-made tours to visit the second city of France and its historical and architectural heritage. You will be amazed by the richness of the city and its historical depth dating back to the Roman Empire. Our drivers know the city perfectly well and will not be short of anecdotes about the different places we will pass through. Moreover, if you wish, we can offer you the accompaniment of a guide, in different languages, in order to enjoy your tour all the more. If you have any questions or would like to use our services, please do not hesitate to contact us by phone or to make an online quote request. Then, we will propose you the most adapted solution to make you discover the city of Lyon. We realize your touristic tours for any request, whether in a private, family or professional context.
▶ Basilica of Notre-Dame de Fourvière
▶ Parc de la Tête d'Or (Tête d'Or Park)
▶ Place Bellecour (Bellecour Square)
▶ Saint-Jean-Baptiste Cathedral
▶ Museum of Fine Arts of Lyon
▶ La Croix-Rousse
▶ Lugdunum – Museum & Roman Theatres
▶ Bartholdi Fountain
▶ Amphitheatre of the Three Gauls
▶ Confluence
▶ Lyon Zoological Garden
▶ Saint-Nizier Church
▶ Les Berges du Rhône
▶ Lyon Botanical Garden